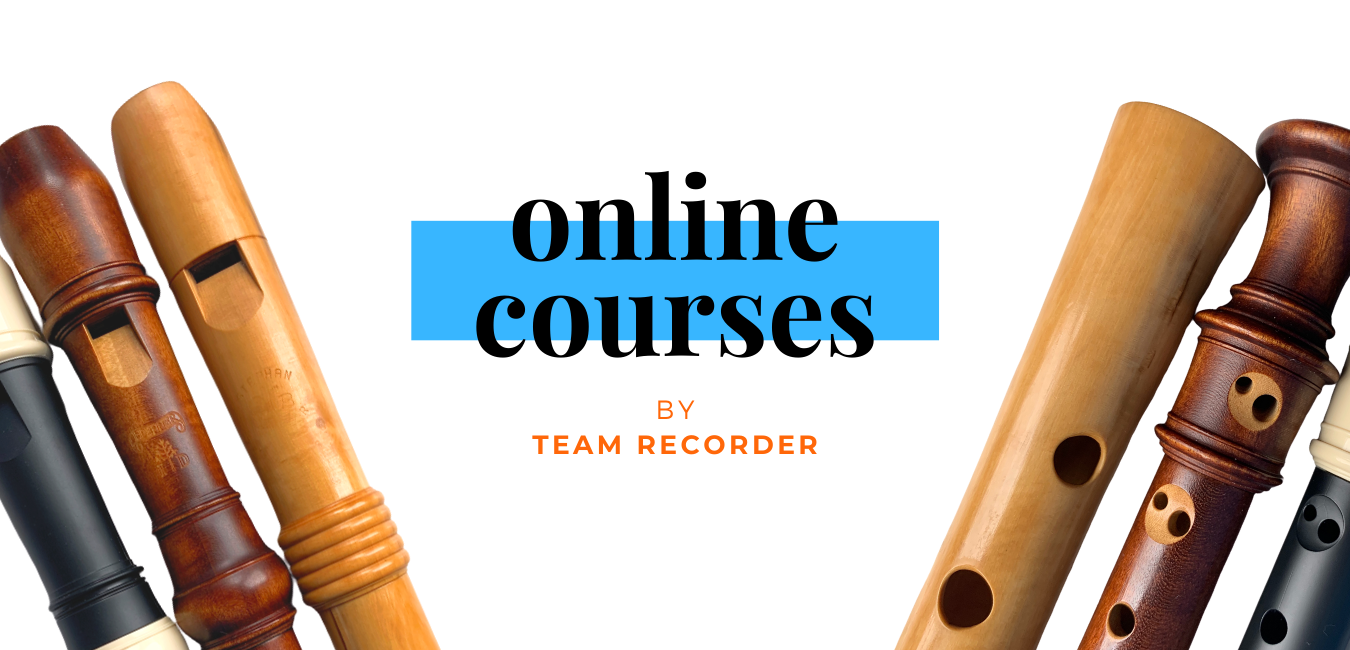 By popular demand: Team Recorder has developed a range of online courses!

This offers you the chance to go into more depth than just a youtube video, meet a supportive community of like-minded musicians, and get regular motivating feedback. The courses are given via Facebook.

The style of teaching will allow you to apply the information to your level and your musical choices, enabling you to become a more confident and self-sufficient musician!



---

What will you get out of each course?


a series of weekly lessons delivered via facebook live stream
plenty of time for Q&As where you can ask any questions
weekly homework downloads and practice challenges
in-depth information and downloadable resource
membership of a closed facebook group, offering a community with valuable support and motivation
weekly feedback

In short: knowledge, information, confidence, community, motivation, encouragement, feedback, planning skills... and fun!


---

Testimonials from previous course students

"Just wanted to say how in one short lesson from Sarah, we are all doing things we've never done before that require courage, skill, technology, expertise and confidence. Love all this support and camaraderie!" ~ Monica

"I wasn't sure what to expect, but I must say that it has surpassed any expectations I might have had. Sarah's teaching has been brilliant, and I so appreciate the supportive community. It's really encouraging to see strangers from all over the world come together to share our experiences and encourage each other in doing something we love." ~ Dave

"It was so practical and motivating. Sarah said in the first session that it takes around 4 weeks to create a habit, and I definitely have done just that! I practice every day and have improved so much that it motivates me even more." ~ from my anonymous survey

"I wanted to say how much I am enjoying everyone's playing. I hope we will continue to be international recorder friends! I have loved the course, but also all of you!" ~ Allison

"Packed with content, but not in a way that felt intimidating. Simple, clear, not-time-consuming homework assignments that put it all into practice." ~ from my anonymous survey

"A big thanks for everything. To find partners in recorder crime, to leave my comfort zones, to gain a lot of confidence and finally improve my playing in more than one level. Was wonderful!" ~ Stefanie


---



Coming soon:
Courses for advanced students
Introduction to contemporary music course
And more! I'm always open to suggestions.



To make sure you stay up to date and don't miss out on future courses, sign up to my mailing list:

COPYRIGHT SARAH JEFFERY ALL RIGHTS RESERVED | PORTRAIT PHOTOS

©

CLAUDIA HANSEN